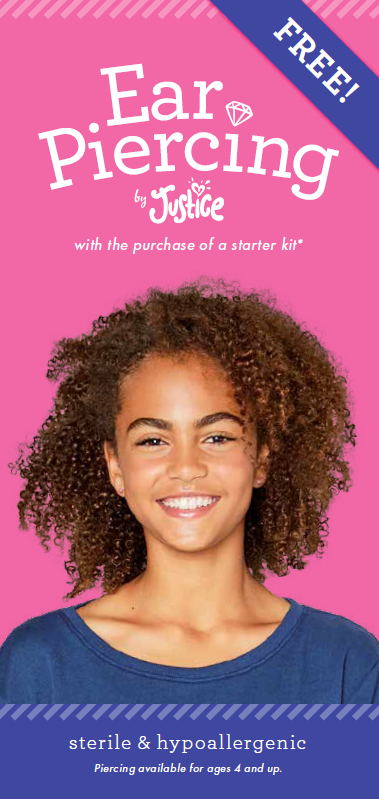 Free Ear Piercing
Going on now
Get a Free Ear Piercing with the Purchase of a Starter Kit
When you get a free ear piercing at Justice, you can be assured it's safe.
We use sterile ear piercing with a medically hygienic system.
Our trained associates will pierce ears using the only ear piercing system with fully-enclosed sterile capsules that protect the piercing earring from exposure to possible contaminants prior to piercing.
We have hypoallergenic piercing earrings in styles for every girl.
We carry a full range of hypoallergenic metal choices.
We use thin piercing posts for a more gentle piercing experience.
Our Safety Back shields the piercing tip and prevents the back from being squeezed too tight.
Visit shopjustice.com for more information.
Free Ear Piercing available for ages 4 and up. Starter Kit includes piercing earrings and a 2oz. bottle of ear care solution.
Tween girls know one thing: Justice rules. And we wouldn't have it any other way.
Since 1999, powerhouse brands Limited Too and Justice have helped tween girls (age 7-14) express their individuality and self-confidence through fashion.
In 2008, we combined the best of Limited Too with the best of Justice, and created a fresh, new Justice.
Today Justice celebrates tween girls through an extraordinary experience of fashion and fun in an everything-for-her destination, at more than 900 Justice stores across the country or online at shopjustice.com.
Justice — where the hottest fashions on the planet are just right for our tween girl.
Find career opportunities at TweenBrands at www.justiceretail.com.