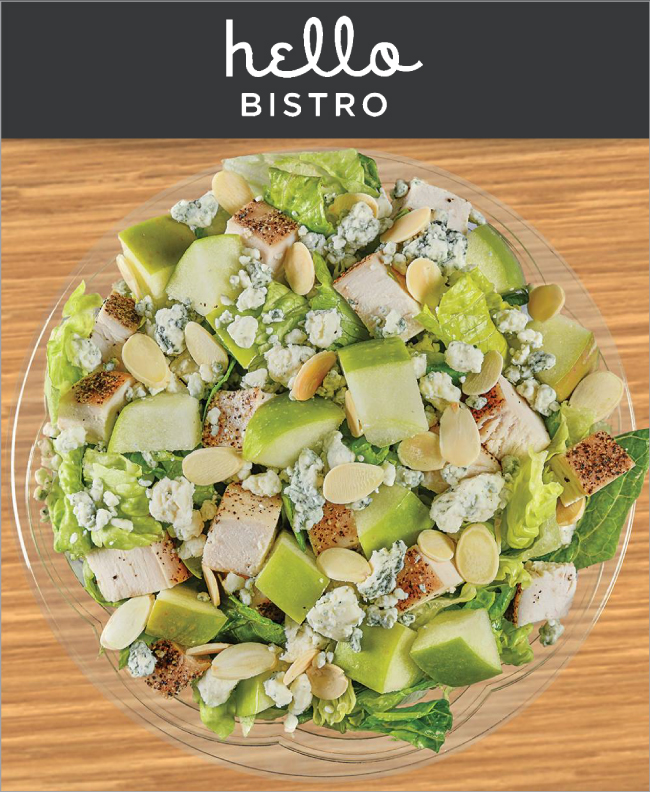 Give Some Green!
Limited time offer
Go Green with our Apple Crunch Salad & Help the Food Bank
Help us #GiveSomeGreen and order our Apple Almond Crunch Salad!
For every one ordered, we'll donate a pound of produce to the local food bank.
That's being green!
Some restrictions may apply on our Green Initiative. See your server for details.
Hello Bistro – About Us
So, you want to know more about us, huh? We ARE pretty interesting, if we do say so ourselves!
In no particular order, here are the answers to the most common questions about us. Been puzzling over a question of your own? Give us a shout – if we think you're clever, maybe we'll post it.
I keep hearing about a "ginormous" salad bar. Sounds like an exaggeration.
Don't believe us? Come and see for yourself! We've got everything from artichoke hearts to fresh mozzarella, and here's where it gets really crazy: We charge you the same price for 5 or 15 toppings. For real. You can have your mandarin oranges, and eat them, too.
And for just a couple extra bucks, we'll throw in your protein. Go with a stand-by like chicken, or get a little exotic with salmon, shrimp, or tofu. Believe us now? We pretty much have it all. The only thing this salad bar needs is a little more cowbell.
What's all this nonsense about flippin' burgers since 1949? Hello, you opened in 2012.
Hello to you, too! We're going to let you figure that one out on your own, but trust us, we know what we're doing. When you add our handcut French fries into the mix (cooked in delicious peanut oil, by the way), well, we can't be held responsible for your undeniable cravings and declarations of love.
So, you're part of the same company as Eat'n Park?
Yep! We've taken all your favorite things about Eat'n Park – Superburgers, Salad Bar, Potato Soup – and combined them with fresh flavor combinations and a little bit of swagger. We're like Eat'n Park's sassy cousin.  Wanna know more about our kin? Check out Eat'n Park Hospitality Group – we're one big, happy family (with a sprinkle of sibling rivalry, naturally).