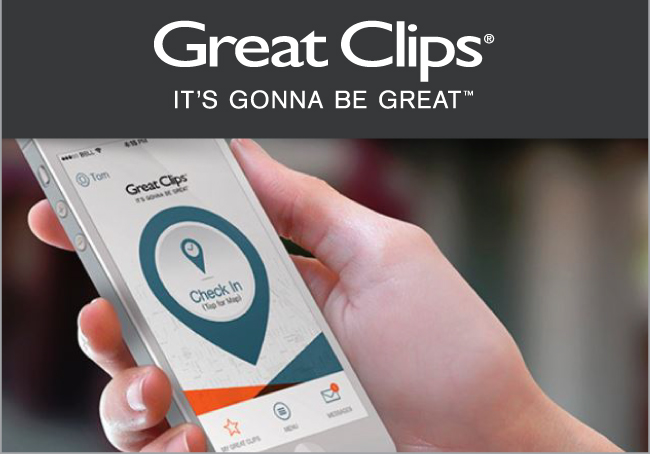 The Great Clips Online Check-In App Saves You Time!
Limited time
Online Check-In
The Great Clips app includes lots of great features that can help you save time and money, including our game-changing Online Check-In!
Online Check-In
It's easy—just open the app, click on the check-in button, and the salons nearest your current location will appear. Touch the salon location that that works best for you, tell us your name, phone number, and how many people are in your group. Then, head right over to your Great Clips salon to receive the quality haircut or service you want.
How Does It Save You Time?
When you check in online, your name goes on the list in the salon, even before you've arrived. When you do arrive, chances are you'll be next or almost next on the list to receive service.
Want To Check In Online, But Don't Have A Mobile Device?
That's fine. Use a computer to visit the Great Clips website. Click on Find a Salon or Check In. Enter your zip code or address and you'll be using Online Check-In in no time!
With The Great Clips App, You Can Also:
Create a profile and select your favorite salons to quickly link to those salons and check in.
Sign up to receive informational and promotional emails. Contact our customer service department or provide feedback about your latest visit to a Great Clips salon.
Download this Online Check-In app today, and you've made getting a great haircut even more convenient. Learn more about Online Check-In.
Small Print:    Today's fast-paced lifestyle means you need a salon that fits your schedule. That's why we're open evenings and weekends; no appointments necessary. At Great Clips, you can relax, because you know you will get an affordable, quality haircut in a comfortable, friendly salon.
For the ultimate in convenience, Great Clips launched the industry's first Online Check-in service, allowing customers to add their name to the waitlist of a Great Clips salon—before they arrive. Great Clips is also the only salon brand with Clip Notes®, a technology that allows stylists to keep notes on a customer's haircut and is accessible at any Great Clips salon.
With 3,900 franchised salons throughout the United States and Canada, Great Clips is the world's largest salon brand. Great Clips franchisees employ 35,000 stylists who receive ongoing training to learn advanced skills and the latest trends. Our salon owners and corporate office are dedicated to our salon communities with a focus on philanthropy and volunteer activities.
Check in to the Great Clips salon nearest you.